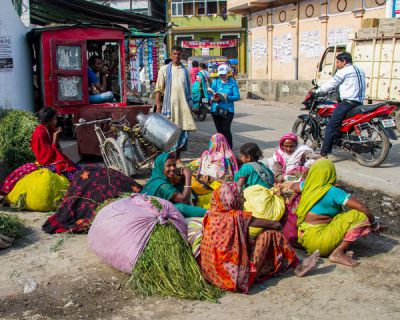 A Connection to Place
I set about to create images with which I tell visual stories. When you stand before my work, I want to draw you in. Engage you. I want you to drift off into your imagination. Does this painting suggest a story to you?
What visual clues can I provide?
A gesture, a look--What does it reveal about the inner life? The subjects are not me, but the emotions reflect mine. It has to work this way. I don't just paint a picture. My painted characters come from someone I noticed and wanted to think more about.
My paintings are about somewhere, too. A place reveals so much. Where is this happening? How does is this place contribute to the story? Something important to me takes place here. Does it affect your point of view?
k
Julia Wickes is a native of Southern Indiana. She is a graduate of Indiana University, Bloomington, and Herron School of Art and Design, IUPUI. She lives and maintains a studio in Downtown Indianapolis.
juliawickes.com
Stories
"The personal, the individual character, is primary, but suggestive of humanity and the universal in all of us."
I am a painter, working primarily in oil and acrylic paint. My work is about people--their emotions, their body language, their stories. My paintings are contemporary representational portraits that incorporate abstraction. Bold fields of color help provide the mood.
Stories have always played a part in my art making. Over 30 years ago, I started a graphic design and illustration business, Grand Designs, Inc. I provided print design services and editorial illustrations to small businesses, non-profit organizations, and art directors - clients who were directly involved with their businesses from top to bottom. As part of our working relationship, I had to learn their stories--what motivated them, how they started, the emotional highs and lows of their businesses. I assisted them in telling their stories to their communities through design and illustration.
After several years of working in the illustration and design fields, I enrolled at Herron School of Art and Design at the Indianapolis campus of Indiana University/Purdue University and earned my bachelor's degree in Painting with a minor in Art History. I was drawn to and have continued to study the work of the California artists of the Post-World War II era, commonly referred to as the Bay Area Figurative Artists. My favorite, and a clear Bay Area favorite, Richard Diebenkorn, was heavily influenced by Henry Matisse and Edward Hopper, as I have been. I was attracted to Diebenkorn's use of bold color in abstract blocks, his incorporation of heavy contrasts between shadows and light, and his use of both figuration and abstraction within the same work.
I work in a studio in a historic car factory in downtown Indianapolis and regularly exhibit my work in juried and solo shows. I teach private painting classes and an interactive workshop on traveling with a sketchbook. I give lectures about my work and write a blog called "Sketching Life".
This is my story. I am embedded in my subjects' stories and they are part of mine.
RESUMÉ - Julia Zollman Wickes
Recent One-Person Exhibitions
2018 "Stories We Tell" Petrov Frame Atelier, Indianapolis, IN
2017 Corporate Exhibit--Frost Brown Todd, Indianapolis, IN
2016 "A Connection to Place" Harrison Center for the Arts, Indianapolis, IN
2014 "Stories" Arts Place, Portland, IN
2014 "Stories" Main Street Yoga, Indianapolis, IN
Recent Group Exhibitions
2017 "As We See It-A Painter and a Photographer were Walking Down the Street--Julia Zollman Wickes and Jack Wickes" Jewish Community Center, Indianapolis, IN
2016 "A Celebration of Herron Alumni" one of 40 artists selected to represent Herron from the1930's to today, Herron School of Art and Design, IUPUI, Indianapolis, IN
2016 "January Blues-Creating Moods and Emotions" Curator and Exhibitor - Stutz Business and Art Center, Indianapolis, IN
2015 "For the Love of Art-Jack and Julia Wickes: Painter and Photographer" Tarkington Tower Gallery, Indianapolis, IN
2015 "IDADA Annual Exhibit (Juried) Indianapolis, IN
2013 "Walking a Path Together Differently: Current Work by Julia Zollman Wickes and Jack Wickes" Indianapolis, IN
2013 "Alpha and Omega Arts" (by invitation) InterChurch Center, Indianapolis, IN
Awards/Recognition
2010 First Place, IDADA Annual Juried Show, 914 Gallery, Indianapolis, IN
Lectures, Workshops, Classes Conducted
2009-present Workshop-"Exploring With Your Sketchbook: A Traveler's Guide to Making Great Art", a 3-day
interactive workshop offered to individuals and small groups
Scholarship Donation
"Julia Zollman Wickes Travel Award" a cash award granted annually to a full-timeHerron School of Art student attending an overseas art residency program
Education
2002 BFA, The Herron School of Art, Indiana University/Purdue University Indianapolis, Indianapolis, IN Major-Painting, Minor-Art History
1998 Pont Aven School of Art, Pont Aven, France
1971 B.S., Indiana University, Bloomington, IN, Major-Elementary Education
Recent Employment Experience
2002-present JZ Wickes, Inc.(fine art studio), Indianapolis, IN
Current Professional Affiliations
2005 - present Stutz Artists Association, Indianapolis, IN
List of Collectors available upon requst