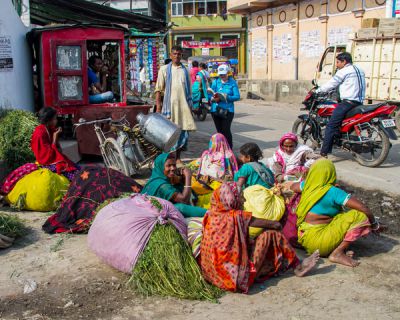 Artist Statement
I am a storyteller. My paintings tell stories, mostly about people--people I know, might have noticed and want to think more about, or they are imaginary people I think would be fun and interesting to know.
A gesture, a look--what does it tell about the inner life? My painted subjects are not me, but the emotions reflect mine. It has to work this way. My painted characters come from someone I wanted to think more about.
My paintings are about somewhere, too. A place reveals so much. Something important to me happens here. How does this place contribute to the story?
People all over the world inspire me. From my backyard in Bedford, Indiana, in the 1950's to China today, I see commonality in people through their actions. I am interested in the gestures and expressions in private moments of thought, the inside moments. Do you see a story, too?
Multiple layers of paint placed on the canvas abstractly provide the starting place for my visual story. I frequently let the shapes from the layers below figure into the narrative. Gestures, body language, place, form and color are all important. Real people are examined, real places are recalled, but the story is not real. I don't preplan my compositions. I don't make studies. The composition has to tell the story, and the figure (character) is the focus of the canvas. Distancing myself from the work to see it again with fresh eyes over time is one of my tools.
When I consider the artists I am drawn to, I see why my style or technique has evolved as it has. Henri Mattise is inspiring to me for his composition, drawing style, rich use of color and creative use of perspetive; Richard Diebenkorn points the way for a looser drawing style and use of space and Francisco Goys's drawings and paintings provide important examples of emotional and intellectual content.
I believe that people the world over long for the same basic things. I am a communicator, an interpreter of of observed lives. I try to create the universal when I paint the individual.
----Julia Zollman Wickes
A Yearning to Record the World
Julia Wickes didn't plan to be an artist when she grew up. She really didn't know any professional artists in her little town in southern Indiana. She thought she would be a psychiatrist, a social worker or a teacher. Always an avid reader, Wickes loved the idea of storytelling, too.
Different years brought different inputs. At age 20, family friends invited Wickes to join them for the summer in Lausanne, Switzerland. By rail and by car, she accompanied the family on trips throughout Europe, including behind the "Iron Curtain," as Eastern European countries in the Soviet Block were described at the time.
Wickes experienced the sights of history and famous literature and witnessed the political situations of Europe in 1970. Through everyday routines, she was exposed to new and different foods (yogurt!), heard many different languages spoken and observed other cultural differences. It was a mind-expanding experience and there grew a realization that she was part of a bigger world and these travels sparked a yearning to see more of it.
There had always been an art influence in her life. In 1917, her grandmother had been awarded a scholarship to study art at the John Herron School of Art in Indianapolis, Indiana, but her parents were reluctant to let her go away to study. Flower gardens and china painting, a popular artistic pastime of her day, satisfied her creative needs.
In addition, Wickes' aunt was trained as a "Commercial Illlustrator." Her father was a mortician and made many medical illustrations. Her mother had studied oil painting later in life and some of her paintings graced their walls. Art, color and design were all around her.
Wickes became a 6th grade teacher in a city school district. She found teaching enjoyable, but after 4 years, she and her husband moved to Washington, DC. Washington life included a front row seat at the political epicenter, wonderful historical museums and art museums. Wickes also enrolled in her first art class.
Four years later, the Wickes family, now with three daughters, moved to Indianapolis, Indiana and Wickes started her first company, Grand Designs. She provided illustration and design services to small businesses, non-profits, and publications to help them tell their business stories.
Two of their three daughters were still attending college when Wickes decided to enroll in classes at John Herron School of Art, now a part of Indiana University. (This was the school which had awarded her grandmother a scholarship in 1917) At age 52, she completed her BFA with a major in Painting and a minor in Art History.
Following graduation, Wickes has devoted most of her time to fine art painting. She opened a studio in a historic, refurbished downtown building where the Stutz Bearcat was manufactured in the 1920's. Wickes currently shares that studio with her husband, the photographer Jack Wickes.
They share a love of travel and search for subject matter all over the world. Whether it is bicycling through villages in Vietnam and Cambodia, climbing a volcano in the Canary Islands, or walking through the streets of Paris, there is always a subject just waiting to be found. Wickes uses a sketchbook rather than a camera to capture much of her reference material to achieve her most authentic interpretation of the scene.
Wickes, trained in classical art making techniques, employs color and mark making, as well as abstraction to achieve her expressive work. She envisions stories about her subjects as she paints them. She sees their environment, imagines what is happening to them and imagines their inner lives as she sets her people on the canvas. She says her figures are bits and pieces of people she been looking at all of her life.
Wickes tries to create the universal when she paints the individual. Her goal is to make art that captures people at a moment of reflection. She is driven by the belief that in spite of living in different cultures and in different places, people the world over long for the same basic things.
Wickes says, "I invite conversation about my work. I want to know what the viewer sees. Sometimes they see something totally different and I am always amazed at that! That's the start of a good discussion!"
When she hits a stumbling block, Wickes turns to her major art influences to see the next step. Henri Matisse is inspiring for his composition, drawing style and rich use of color; Richard Diebenkorn for his figurative style and his use of space; and Alice Neel's work provides the challenge to be more expressive, to search for more interesting subjects and to experiment with perspective.
David Hockney, who paints his friends and family, and Francisco Goya and Edward Hopper were early art heroes. In the last few years, Wickes has been traveling to California to attend workshops of figurative artist, Melinda Cootsona, who works in the Bay Area Figurative tradition.
Besides making her own paintings, Wickes teaches private painting classes and offers a workshop to teach students tips in using a sketchbook when traveling. She has led workshops in Mexico for her own students and colleagues, housing them in her home there and hiring her Mexican neighbors to serve as models.
Upon Wickes' graduation from John Herron School of Art, IUPUI, as a gift from her family, a scholarship was started. It is called the "Julia Wickes Travel Award" and it references Wickes' own travel opportunity as a young, impressionable adult. Each year, two students from John Heron School of Art, IUPUI, are awarded a cash prize to be used towards a residential art-making experience overseas. It is her hope that this opportunity will provide a broadening experience as the students live and study in another culture.
The work continues and Wickes looks back on her unexpected career as an artist. She didn't become a psychiatrist or a social worker. She became a storyteller, a teacher, a communicator of ideas and an interpreter of observed lives and Wickes loves the idea that there are boundless stories yet to be told.
"I am a communicator, an interpreter
of observed lives. I try to create the
universal when I paint the individual."
Recent One-Person Exhibitions
2018 "Stories We Tell" Petrov Frame Atelier, Indianapolis, IN
2017 Corporate Exhibit--Frost Brown Todd LLC, Indianapolis, IN
2016 "A Connection to Place" Harrison Center for the Arts, Indianapolis, IN
2014 "Stories" Arts Place, Portland, IN
Recent Two-Person & Group Exhibitions
2021 "Live Laugh Love" Anderson Museum of Art (First Prize - Love) Anderson, IN
2020 "Brrrrgundy" Harrison Center for the Arts (Juried) Indianapolis, IN
2020 "Figures of Speech" Anderson Museum of Art" (Best of Show), Anderson, IN
2019 "Porch Party" Harrison Center for the Arts (Juried), Indianapolis, IN
2019 "Palette: An Appetite for Art". Garfield Park Art Center (Juried), Indianapolis, IN
2018 Bowery Gallery Annual Juried Exhibit (Juried), New York, NY
2018 Saks Gallery Third Thursday, (by invitation) Saks Fifth Avenue, Indianapolis, IN
2017 As We See It-A Painter and a Photographer were Walking Down the Street---Julia Zollman Wickes and Jack Wickes" Jewish Community Center, Indianapolis, IN
2016 "A Celebration of Herron Alumni" (one of 40 artists selected to represent Herron from the1930's to today, Herron School of Art and Design, IUPUI, Indianapolis, IN
2016 "January Blues-Creating Moods and Emotions" Curator and Exhibitor Stutz Art Gallery - Stutz Business and Art Center, Indianapolis, IN
2015 "For the Love of Art-Jack and Julia Wickes: Photographer and Painter" Tarkington Tower Gallery, Indianapolis, IN
2015 "Indianapolis Downtown Artists and Dealers Association (IDADA) Annual Exhibit (Juried) Indianapolis, IN
Media Presentations
2020 PBS American Portrait Project participant (by invitation)
2020 WTHR TV (Local CBS affiliate) By invitation - Art requested for display: "Covid 19 Stay-At-Home Order: Art Studios and Galleries Remain Closed, So TV Newscasters Help Out"
Awards/Recognition
2020 Best of Show, "Figures of Speech," Anderson Museum of Art, Anderson, IN
2010 First Place, IDADA Annual Juried Show, 914 Gallery, Indianapolis, IN
Workshops Conducted
2009-present Workshop-"Exploring With Your Sketchbook: A Traveler's Guide to Making Great Art," a 3-day interactive workshop
Scholarship Donation
"Julia Zollman Wickes Travel Award"
--a cash award granted annually to two full-time Herron School of Art students attending overseas art residency programs
Education
2014-present Workshops with Melinda Cootsona, Menlo Park, CA & Pauline Agnew, Cork, Ireland
2002 BFA, The Herron School of Art, Indiana University/Purdue University Indianapolis, Indianapolis, IN Major-Painting, Minor- Art History
1998 Pont Aven School of Art, Pont Aven, France
1971 B.S., Indiana University, Bloomington, IN, Major-Elementary Education
Recent Employment Experience
2002-present JZ Wickes (fine art studio), Indianapolis, IN
Current Professional Affiliations
2005-present Stutz Artists Association, Indianapolis, IN
Private Collections
Ms. Christine Baldwin, Indianapolis, IN
Dr. & Mrs. Michael Ball, Indianapolis, IN
Drs. Valerie & Victoria Ball, Indianapolis, IN
Ms. Tammy Boroughs, Indianapolis, IN
State Senator Jean Breaux, Indianapolis, IN
Mr. & Mrs. Andy Brodie, Brooklyn, NY
Mr. & Mrs. Steven Brokaw, Indianapolis, IN
Mr. & Mrs. Kevin Callahan, Austin, TX
Ms. Donna Clark & Mr. Randy Russell, Indianapolis, IN
Mr. & Mrs. Chris Clifford, Zionsville, IN
Ms. Sylvia Collins, Miller Beach, IN
Mr. & Mrs. Brandon Conovitz, Brooklyn, NY
Ms. Ellen Crabb, Indianapolis, IN
Mr. & Mrs. Dan Cunningham, Indianapolis, IN
Ms. Sue Dawson, Monticello, IL
Mr. and Mrs. Thomas Devore
Mr. & Mrs. Aaron Grant, Zionsville, IN
Mr. & Mrs. Bill Groth, Indianapolis, IN
Ms. Susan Guyett & Mr. David Dawson, Indianapolis, IN
Ms. Kathleen Harrington
Ms. Donna Heimansohn, Indianapolis, IN
Mr. and Mrs. Barry Herring, Nashville, IN
Ms. Sharene Hilligoss, Terre Haute, IN
Mr. and Mrs. Brad Hubler, Indianapolis, IN
Ms. Liane Hulka, Indianapolis, IN
Mr. and Mrs. Steve Hyatt, Indianapolis, IN
Ms. Kate Keesling, Indianapolis, IN
Ms. Carol Keene, Carmel, IN
Ms. Madalyn Kensey, Indianapolis, IN
Ms. Grace King, Indianapolis, IN
Ms. Carrie Kirk, Indianapolis, IN
Mr. & Mrs. Andreis Kregers, Indianapolis, IN
Ms. Jan Kreuscher, Indianapolis, IN
Mrs. Merrill Lasley, Bedford, IN
Ms. Lynn McDowell, Indianapolis, IN
Ms. Annette Magjuka, Greenwood, IN
Mr. & Mrs. Craig Masback, Portland, OR
Mr. and Mrs. Jim Matthews, Indianapolis, IN
Dr. Marc Mendonca and Ms. Judy Fye, Carmel, IN
Ms. Mary Jane Mitchell, Indianapolis, IN
Mr. & Mrs. Bruce Muller, Indianapolis, IN
Ms. Lisa Norquest, Indianapolis, IN
Mr. Tony Papalia, Indianapolis, IN
Ms. Mary Proctor, Indianapolis, IN
Ms. Erika Rager, Indianapolis, IN
Mr. Jason Range,Florida
Ms. Deborah Rhoades, Ft. Wayne, IN
Mr. and Mrs. Todd Richardson, Indianapolis, IN
Mr. Charles T. Richardson, Indianapolis, IN
Mr. & Mrs. Kevin Sears, Indianapolis, IN
Mr. Ted Seastrom, Nashville, IN
Ms. Margaret Strodtbeck, Indianapolis, IN
Ms. Rosa Vera, Bethesda, MD
Ms. Norma Wallman, Indianapolis, IN
Ms. Alyce Zollman, Bloomington, IN
Mr. and Mrs. John Zollman, Bedford, IN